Transferable Skills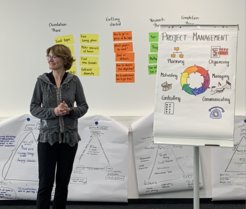 Transferable skills, also known as soft-skills, are abilities that one may develop when pursuing a doctoral degree and can be transferred to future careers, whether in academia or the industry. Many of these courses are taught by experienced external trainers who, in addition to their PhD or Post-doctoral skills, bring their experiences from the non-academic route. In doing so they provide a unique skill-set and contribute to the development of our doctoral students.
An array of transferable courses will be offered throughout the year, all of our courses are independently evaluated by and adopted towards the needs of our doctoral students and constantly kept up-to-date in terms of choice. Please contact the coordinator, if there is a particular course of interest that has yet to be offered.
General notes for transferable skill requirements:
During their doctoral studies, IMPRS-QBEE doctoral students should participate in at least three transferable skills courses. If you acquire a certificate of attendance, you can submit it to the coordination office to credit toward your curriculum even if the courses weren't provided by the IMPRS-QBEE.
Doctoral students from outside the IMPRS are welcome to participate in our transferable skills courses. If one of these courses interests you, get in touch with the coordination office. When there are openings, our courses are shared with the other graduate program at the University of Konstanz.
Cancellation policy:
Once you have registered for a course provided by the IMPRS on a sign-up list, you should be considerate and participate. If you are unable to attend, you should inform the coordinator with at least 48hours notice. This is so that we can fill your slot with another person that can benefit from attending. For those that are systematically missing in courses that they have signed up for will be black-listed from future participation.