How to apply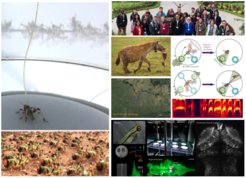 Please access our exciting new doctoral projects through our current website. The link to register for the application portal is closed. The next term for applications will take place in November-December 2022.
The deadline for applications was the 16th of December 2022, 23:59 CET. Letters of reference were until 26th of December, 17:00 CET.
We recommend that you ask your two referees personally before adding their information to the application portal, if they are willing and have the time to evaluate your academic skills, before the given deadline, before you add their information to the application portal and send the invites. You cannot change your referees once you have sent the invite! Please be aware that your application will only be considered if the two recommendation letters reached us in time!
You will receive a confirmation email as soon as we receive your two recommendation letters, as soon as you have submitted your application and finally once your application is complete.
Required documents are:
Curriculum Vitae (CV);
Transcript of records (record of study) and degree certificate of bachelor (BSc) degree (minimum of 240 ECTS points), Vordiplom or equivalent degree;
Transcript of records (record of study) and degree certificate of Master (MSc) degree, Diplom or equivalent degree (if applicable). If your degree programme is not yet completed, please provide temporary transcripts;
two letters of recommendation, will be required, please ask your previous MSc supervisor;
High school degree transcripts or equivalent, if German applicant;
Letter of Motivation (max. 1 A4 page) specifically addressing why the selected project(s) /research group were chosen and why you want to join the IMPRS?
Recommended documents are:
certificate of proficiency in English (recommended if not native English speaker or education was not in English);
scholarships, prizes and awards (if applicable);
portrait picture (optional);
A GRE subject test in either biochemistry, biology, mathematics, physics or related subject. A GRE subject test is recommended if you come from a non-EU country, this will strongly support any application (for applicants from India we also accept GATE);
International experience.
What we expect of our future IMPRS students:
strong scientific motivation;
serious interest in the activities of the doctoral programme.