Application phase is now closed
IMPRS-QBEE's projects for 2023 call will be announced in due time!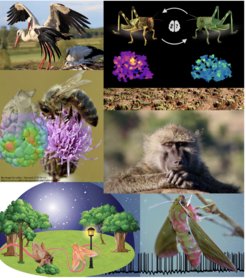 International Max Planck Research School for Quantitative Behavior, Ecology and Evolution from lab to field (IMPRS-QBEE) continues to strengthen ties by increasing collaborations and achieving sucessful scientific results between the newly founded Max Planck Institute of Animal Behavior and the Department of Biology at the University of Konstanz.
The IMPRS-QBEE announces a call for applications for admission in 2023. We seek to prepare young motivated researchers with the minimum entry requirement of either a Master's or an equivalent degree level, and in exceptional cases, graduates with a 4-year Bachelor's degree (BSc with honours during which you must have completed a research project and a written thesis work) in a related subject, would be considered. It is not necessary to hold the degree at the time of application, however accepted applicants need to have the degree award before starting their doctorate. Latest starting date is October 4th, 2023
The eligibility of each applicants degree's will be checked by Universität Konstanz on a case-by-case basis. Those who do not fulfil the minimum requirements, will have to complete further course work before their doctoral studies.
Candidates need to be fluent in written and spoken English and - unless native speakers - have to document their proficiency in the language (e.g. TOEFL).Our Institute code number for TOEFL is D259. German is not required, but students from abroad will be offered opportunities to take German courses and we highly recommend to pick up some words for your social life.
What is next? When can I be expected to hear back for my application?
At the moment, potential supervisors are evaluating the over 118 candidates whose applications were completed for the 2022 applications round.
By the 14th of February, all invitations to the selection symposium for candidates with visa requirements will be sent out.
The remaining shortlisted candidates will hear back as soon as possible but no later than by 28th of February (update from 21st due to local holidays, thanks for your understanding) as to whether they are to be invited to the selections symposium, between the 20th to 23rd of March 2023, in Konstanz. The IMPRS program will cover the costs for accomodation and travel, as well as help with purchasing of the (airline/train) tickets on your behalf.
When is the latest starting date?
We expect all new candidates to participate in our Welcome Week, which takes place early each October. Thus, the latest possible starting date would be the 4th of October.
Regardless of the outcome of completed applications, you can expect to be contacted in due time. Please refrain from contacting the coordination office unless absolutely necessary until the 21st of February has passed. Thanks for your understading.