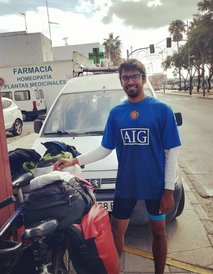 Dr. Vivek Hari Sridhar
IMPRS Alumni
Postdoc
Department for the Ecology of Animal Societies
Main Focus
I am a post-doctoral researcher with Dr. Ariana Strandburg-Peshkin in the Department for the Ecology of Animal Societies, at the Max Planck Institute of Animal Behavior. My interests lie in understanding fundamental principles that govern spatiotemporal computation in biological systems. More specifically, how individual decision-making in complex real world scenarios emerges from relatively simple neural interactions, and how these decisions in-turn affect movement, information processing, leadership, and decision making in animal groups. 
To do this, I use state-of-the-art techniques in computer vision and machine learning for data pre-processing and analysis. By taking inspiration from statistical physics and combining this with mathematical models and individual based simulations, I hope to elucidate the link between the individual and the group at both generational and evolutionary timescales.
Curriculum Vitae
EDUCATION
BACHELORS: Manipal Institute of Technology (2008–2012)
MASTERS: Erasmus Mundus Masters Programme in Evolutionary Biology (2013–2015)
PhD: International Max Planck Research Society for Organismal Biology/ University of Konstanz (2015–2020)
POSTDOC: Department for the Ecology of Animal Societies, Max Planck Institute of Animal Behavior (2020–Present)
RESEARCH APPOINTMENTS
Research Intern in the Downstream Processing and Analytical Laboratory, Biocon R&D Centre (December 2009)
Research Intern in the Personal Care Products Business, ITC LSTC (June 2011 – August 2011)
Junior Research Associate in the Personal Care Products Business, ITC LSTC (July 2012 – June 2013)
Research Assistant for the German Barcode of Life Project at the Bavarian State Collection for Zoology (May 2014 – June 2014)
Extra information
I am a computational biologist, interested in the interplay between individual and group level properties in animal societies. I investigate decision-making across scales: how individual behaviour translates to decisions at the group level and thus affects collective motion and information propagation. Currently, I analyse trajectories, construct agent-based models, and use Bayesian inference to study coordination of movement via vocal communication in meerkats.
Communication & Collective Movement
•
Bayesian inference
•
Neural networks
•
Information
•
Meerkats