Understanding the elements that shape the ontogeny of migration in white storks
Supervisor: Andrea Flack, Max Planck Institute of Animal Behavior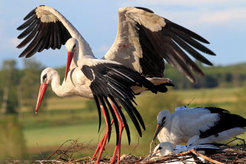 We are looking for a PhD candidate to explore how innate, social, and learned experiences shape migratory decisions during the different life stages of a migratory bird. Long-lived birds conduct their migratory journeys many times over their lifetime, allowing learning and experience to shape their migratory behaviour. In social migrants, interactions with conspecifics also determine migratory decisions. However, individual experiences and gained knowledge may cause conflicts with the social environment. In addition, while we know that social influences strongly determine autumn migration patterns in social migrants, it is unclear which factors are essential for deciding on spring routes and breeding locations. This project will use a long-distance migrant to disentangle the effects of learned, innate, and social factors on the migratory movements of different life stages.
Project details: Research will involve experimental field work on white storks, but the student will also make use of large dataset of long-term GPS tracking. The project will (1) determine how experienced birds handle conflicting information from social cues and their learned migratory behaviour; investigate how (2) innate and (3) social factors determine spring migration routes and breeding locations.
Qualifications: The project will involve independent field work, experimental work, animal tracking, and quantitative data analysis. The ideal candidate should be experienced in at least one of these areas, be prepared to conduct research and fieldwork independently, and have an interest in learning and applying new skills (e.g. in programming R/Python). Applicants should hold a Master's degree (or equivalent) in ecology, animal behaviour, zoology, or a related subject, and have a driving license. The position is fully funded for 3 years, and open to students of any nationality. The working language of the institute is English (German language skills are not a requirement). Starting time is flexible and will be between April and June of 2024. The student will be a member of the International Max Planck Research School for Quantitative Behaviour, Ecology and Evolution (IMPRS-QBEE), a cooperative doctoral program between the Max Planck Institute of Animal Behavior and the University of Konstanz.
How to apply: We are looking forward to receiving your application until November 20, 2023 through our online portal. If you have any questions, please contact Andrea Flack.
We look forward to receiving your application with the following documents via our Online Application Portal.
Letter of motivation / research statement (2 pages) addressing the following points:

Describe your main scientific interests, how they developed, and how they relate to the proposed research project. Explain what scientific questions most motivate you and why.

Curriculum vitae (CV)
Academic transcripts for your BSc and MSc degrees (can be unofficial at this stage – official records will be required before acceptance)
Contact information for 2-3 personal reference.
A sample of your scientific writing (e.g. publication or manuscript in prep, thesis, term paper, etc.)